Azad Spice Gardens Private Limited - A Trusted Name Since 1940
High quality standards dominate the line of our freshly made Indian Spices Powders, which enjoy being favorite of several residential and commercial kitchen spaces. In nearly every quality food loving home, restaurant and other food retailing outlets, our line of spices finds themselves stocked in kitchen shelves due to its capability of bringing life into dishes. Our vast and impressive product portfolio includes Coriander Seed Powder, Coriander Seed Powder, Indian Sambar Powder, Garam Masala Powder, Black Pepper Powder, etc. Our offered product line is closely examined for its purity, smell and taste prior to getting shipped from Thiruvananthapuram, Kerala, India. This in-house product testing assists our company to promise clients only the best variants of Indian Spices.
Putting Our Best Efforts
A company for having a solid business legacy, especially a proud one must put everything in the form of hard work, passion, dedication and loyalty into work for reaping fruits of benefits. We are happy to share a wonderful legacy of quality work, which is still in continuation. Many decades have gone and many are yet to form with our company working relentlessly hard and showcasing honesty in business deals.
Our company boasts of a modernly designed infrastructural facility. This facility is everything that a company demanding growth will love to have. Divided into different business departments, this facility makes more than half of the work of our business smooth and hassle-free. This manufacturing facility is installed with modern technology inspired spice processing machines, which contribute in making rich in flavor, healthy and pure Indian Spices.
Mighty Garden, A Brand of Authentic Indian Spices
Mighty Garden Indian Spices Powders- a taste of love, a taste of purity, a taste of richness describes the best about our quality standards. Under our brand name, packages of happiness in the form of Indian Spices Powders are served to customers with a strong assurance of high purity. Ingredients used in making our product line passes through several food safety and quality checks prior to getting used in production. Quality-focused manufacturing results in bringing forth a quality-marked line of Turmeric Masala Powder, Garam Masala Powder, etc., in the market.
What Makes Us An Ideal Choice?
Our ability to manufacture quality Indian Spices in conformity to food safety and quality norms.
Our idea of providing complete product related information to clients and end-buyers through effective and attractive packaging.
Our capability to meet small and bulk requirements of authentic spices in a less time-frame due to great logistics support.
Basic Information of Azad Spice Gardens Private Limited
| | |
| --- | --- |
| Nature of Business | Manufacturer, Exporter &Supplier |
| Year of Establishment | 1940 |
| Business Location | Thiruvananthapuram (Kerala, India) |
| No. of Employees | 400 |
| Company Branches | 18 |
| No. of Production Units | 04 |
| Warehousing Facility | Yes |
| GST No. | 32AAGFA5907N1ZE |
| Import Export Code | AUMPA5139N |
| Bankers | Karnataka Bank, Axis Bank &South Indian Bank |
| Brand Name | Mighty Garden |
| Annual Turnover | Rs. 45 Crore |
| Working As An Original Equipment Manufacturer | Yes |
| Legal Status of Firm | Proprietorship Firm |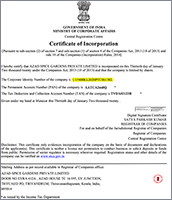 Contact Us
Azad Retail Store, Kowdiar,, Thiruvananthapuram, Kerala, 695014, India
Phone :+918037261528